(Last Updated On: March 24, 2023)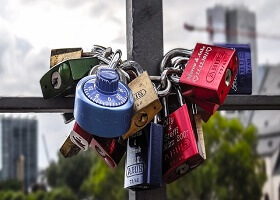 There are many reasons why you might need to replace the locks on your office. Maybe they were installed incorrectly, or maybe they just don't seem secure anymore. It's important that you take care of this issue as soon as possible because if there is a break-in it could be devastating for your business and anyone working there. Fortunately, replacing locks is not difficult and can actually save money in the long run if done correctly. Here are some things to keep in mind when doing so:
1. They have worn down
If you notice that your keys are getting stuck in your lock more often than usual, it is likely due to the fact that they have worn down. This can be very dangerous because it could allow someone with the wrong key to break into your office. If this is how you know you need new locks, make sure to get them installed before the next business day.
2. They don't feel secure when you lock them
Office locks that don't seem to do their job anymore are another sign that it is time to replace these types of locks . It might be a good idea to replace your office locks or at least take them in to have them inspected and serviced if this is the case.
3. They are easily damaged
Office locks that can be easily damaged or broken also needs to be replaced as soon as possible . If, for example, your key gets stuck every time you try and turn it in the lock, this is a sign that there is something wrong with the lock itself. Instead of waiting until something worse happens, make a note of this and call a commercial locksmith in Miami.
4. Your business has experienced a fire or flood
You will likely need to replace your office locks if there has been an incident such as a fire or flood in the business . This is because when these things happen they could damage your key system and leave you vulnerable to further attacks. Instead of allowing this to happen, have the office locksmith in Miami come out immediately so that you can get back to being productive in no time.
5. Locks are old or outdated
it's time for a replacement. Many newer locks come with features like keyless entry and fingerprint scanning, so it's important to make sure that your locks are up to date.
6. Locks are easy to pick or crack
They're not doing their job properly. A good lock should be difficult to pick or crack, so if you're having trouble with your current locks, it's time for a change.
7. Locks are frequently jammed or hard to open
It might be time for a replacement. A good lock should open smoothly and without any trouble, so if you're struggling with your current locks, it might be time for an upgrade. Contact a professional Miami locksmith to replace it.
8. If you have a large amount of keys for your office locks
It might be time to get rid of all of them and start fresh with a set of locks that can use a single key. This will help to streamline the lock system, which will prevent any future complications from taking place.
9. The business has moved or changed hands
Finally, if your business seems to have moved or changed hands it is important that you purchase and install new office locks . Although there might not be a real reason for this, it can help to ensure that you are protected. If your locks were not installed correctly the first time around, they will likely need to be replaced.
How Do I Choose the Best Type of Lock for My Business?
When it comes to choosing the best type of lock for your business, there are a few factors you'll want to keep in mind. Security, budget, and ease of use are all important considerations, and each type of lock has its own advantages and disadvantages. In this article, we'll take a look at the different types of locks available and help you decide which is the best fit for your business.
One of the most popular types of locks is the keyless deadbolt. This type of lock is easy to use and relatively affordable, and it offers a high level of security. Another popular option is the keypad lock, which is convenient and easy to use but can be more expensive than other options. If you're looking for an affordable lock that is also highly secure, then the keyed knob lock may be the best choice. For businesses that need to protect large inventories or expensive equipment, an electronic combination lock provides excellent protection at a low cost.
Keyless Deadbolt Locks
These types of door locks are designed with convenience in mind and can be opened with a key or by using a code. The most common type of keyless deadbolt is the knob-in-lever lock, which can be locked and unlocked by either inserting a key into the side of the door and turning it or entering a code on the keypad located on the exterior of your business. Keyless deadbolt locks are incredibly easy to use, but they also offer high levels of security.
Keypad Locks
These locks are popular for businesses because they can be opened with a code that you can change at any time. Keypad locks require batteries to operate the keypad, but once you install them you'll never have to worry about replacing or re-keying your locks. The downside to keypad locks is that they can sometimes be tricky for employees with limited computer skills.
Keyed Knob Locks
If you want the convenience of electronic locks without the added cost, then keyed knob locks are what you need! This type of lock provides all of the same functionality as an electronic lock but at a lower cost. The best part? You'll never have to worry about changing batteries or charging your locks because you'll always be able to use keyed knob locks the old-fashioned way.
Key Combination Locks
If you need locks that are easy to rekey, require minimal maintenance, and provide maximum security, then combination locks are the perfect choice. This type of lock is always ready for use and rarely needs maintenance, but they may not be suitable for businesses with large inventories or expensive equipment to protect.
Conclusion
If you don't want to invest in new locks, it might be time to take your office security into consideration. Installing a new lock system can help prevent any future troubles that may arise with the old one. If you're looking for advice on how best to choose the type of lock that's right for your business, then this article will give you everything you need! We'll cover all types of locks and what they have going for them so that when you do decide which is best for your company, there are no doubts in mind about their advantages or disadvantages.
Ignoring the warning signs that your locks need to be replaced can have serious consequences for your business. A broken lock is an open invitation for criminals to break into your office and steal your property. My Locksmith Miami can help you replace your old, outdated locks with new, high-security locks that will keep your business safe and sound. Contact us now! https://www.mylocksmithmiami.com/