(Last Updated On: March 9, 2022)
No one ever said that securing your home was easy. In fact, it can be downright challenging at times. But the peace of mind that comes with knowing your home is safe and sound is well worth the effort. Here are 13 tips to help you secure your home in Miami and prevent break-ins and theft.
1. Keep Your Entire House in View
You are at your most vulnerable when away from home, yet out of sight. The best way to avoid this situation is by maintaining a constant line-of-sight on your home when you are away. Use sturdy window coverings that keep the interior of your house in view at all times. Install a wide-angle peephole in your front door or install security cameras around the exterior of the home.
2. Secure Your Garage Door
Garage doors are one of the most common points of entry for burglars and thieves. Make sure that yours is locked at all times when you're not at home, and consider investing in a quality lock that can't be picked or pried open. You can check the house locksmith in Miami. Whenever you're at home, keep the door to the garage closed, and consider using a security system that will alert you whenever someone enters your garage.
3. Secure Your Windows
Your windows are an easy way for would-be thieves to access your home. Make sure they are locked whenever you're not at home, and look for windows that are built with security in mind. For example, many sliding windows come equipped with locks that require a key to open them from the outside.
4. Install Quality Door Locks
Your front door lock might be one of the most important things securing your home while you are away. Install a quality deadbolt and make sure it has a thick, steel strike plate. A quick-release cylinder is another great option for added security. A residential locksmith in Miami can provide more information.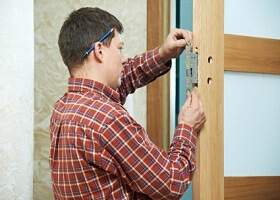 5. Get Wired
A quality security system can provide you with peace of mind while you're away on vacation—and in some cases even while you're home! Security systems such as ADT Pulse allow you to monitor your home remotely through a mobile app, and even lock and unlock doors.
6. Don't Forget Your Patio!
Your outdoor living space is just as important as what's inside of your house. Secure sliding glass doors with quality locks designed to prevent burglars from entering through them. Make sure all of your doors have sturdy strike plates and deadbolt locks, and wedge a piece of wood or metal into the doorjamb.
7. Don't Keep Valuables in Your Car
If you're looking to prevent theft from your car while it's parked at home, don't make your valuables easy targets by leaving them visible inside. Why make it easy for thieves to see what they can take when you're not around?
8. Invest in a Security Camera System
If keeping an eye on your home while you are away isn't enough, consider investing in a security camera system. These systems allow you to monitor exactly who is coming and going from your front door, back patio, or garage. Contact a locksmith Miami for more information.
9. Seriously, Don't Forget Your Keys!
You wouldn't leave your front door wide open while you're away on vacation, right? Then why would you do the same with your car? Don't make it easy for car burglars to gain access to the valuables inside by leaving your windows and doors unlocked and/or the keys in the ignition.

10. Always Be Aware of Your Surroundings
You can't do much to prevent a burglary from happening when you're not at home, but you can reduce your chances of being targeted by criminals by staying aware of your surroundings and leaving any valuables—especially those that are easily identifiable as yours—at home.
11. Make Sure Your House Is Well Lit at Night
It sounds simple, but if your home is well-lit at night, criminals will think twice before attempting to break into the place. Criminals prefer the cover of darkness for a reason: it helps them remain unseen and unnoticed by people inside.
12. Have Someone Regularly Check In on Your House While You're Away
This may be one of the most important tips you'll find in this list. It's simple, easy to implement, and can take your home security to the next level. Have someone regularly check on your home while you're away – whether it's a neighbor checking in on your place every day or a house sitter watching over your property for an entire month.
13. Change the Locks on Your Doors as Soon as You Get Back Home From Vacation
If you've been gone for a while, people may have had access to your house – or even copies of your keys. Even if nobody broke in during your absence, chances are high that someone has gone through your home. Chances are even higher that this person or persons have taken note of how to use your locks. That's why you should change the lock on any door that somebody else could have used during your absence.
If that sounds complicated or too expensive, you can always leave the television on while you're away. It will give the illusion that somebody is home – which is just enough to scare off all but the most determined criminals.
Conclusion
Securing your home in Miami is no easy task – but following these 13 tips will help you do just that. By keeping your windows locked, installing a security system, and clearing out all your trash cans before leaving town, you can make it much more difficult for criminals to break into your house and steal your belongings. Remember to tint your windows for privacy, get rid of any pricey items that can be sold on the black market, and have somebody regularly check in on your house while you're away. These simple steps will go a long way in ensuring that your home remains safe while you're on vacation.
Millions of people travel to Miami each year, but many are unaware of the crime rates in the city and the importance of taking precautions to secure their homes while they're away. According to recent studies, Miami is one of the most popular tourist destinations in the United States. As such, it is also a prime destination for crime. In fact, according to a study by Forbes, "Miami has a crime rate that's more than double the national average."
My Locksmith Miami offers 13 tips you should consider implementing before you leave on vacation to help secure your home and prevent break-ins and theft. We also provide 24/7 service for all your locksmith needs. We have a wide range of services available, so we are sure to have something that can help you. We also offer competitive prices, so you can rest assured that you're getting the best deal possible. Want to learn more about My Locksmith Miami? Call us now – (786) 777-8214