(Last Updated On: November 14, 2023)
When it comes to ensuring the safety and security of your property, you need to have reliable and high-quality locks installed in your doors, windows, and other entry points. Locksmith services can help you choose the best locks that are suitable for your security needs, and install them properly for maximum protection. In this article, we will discuss the different types of locks available in the market, and how you can determine which one is the best option for your property.
Deadbolt Locks: Deadbolt locks are the most common type of locks used for residential and commercial properties. They are made of solid steel and require a key to operate from the outside. Deadbolt locks come in two types – single-cylinder and double-cylinder. Single-cylinder deadbolts only require a key from the outside, while double-cylinder deadbolts require a key from both the inside and outside. While deadbolt locks are highly effective in preventing burglaries, they can be vulnerable to lock bumping and picking. A qualified locksmith can install anti-bump and anti-pick deadbolts for added security.
Electronic Locks: Electronic locks are becoming increasingly popular due to their convenience and reliability. They can be operated using a key card, keypad, or mobile app. With electronic locks, you can easily grant access to specific individuals and restrict access to others. Some electronic locks also come with features such as remote locking and monitoring, which can be very beneficial for commercial properties. However, electronic locks can be expensive and require batteries or electricity to operate. Make sure you choose a reputable brand and consult with a locksmith before installing an electronic lock.
Smart Locks: Smart locks are another type of electronic locks that are designed to be integrated with smart home technology. They can be operated using voice commands or through a mobile app, and can be connected to other smart home devices such as security cameras and alarm systems. Smart locks also come with features such as remote access and monitoring, as well as the ability to generate temporary access codes for guests and service providers. However, smart locks can be vulnerable to hackers and require regular software updates to maintain their security.
High-Security Locks: High-security locks are specially designed to provide maximum protection against lock picking, bumping, and other forms of lock manipulation. They usually come with unique keyway designs and complex internal mechanisms that are difficult to replicate. High-security locks can be expensive, but they are worth the investment if you want to ensure the highest level of security for your property. A qualified locksmith can help you choose the best high-security locks for your needs and install them properly.
Padlocks: Padlocks are portable locks that can be used to secure items such as lockers, gates, and storage units. They come in different sizes and can be made of different materials such as steel and brass. Padlocks can be operated using a key or a combination. Combination padlocks can be convenient as you don't need to carry a key with you, but they can also be susceptible to hacking if the combination is too easy to guess. A locksmith can recommend the most secure types of padlocks for your specific needs.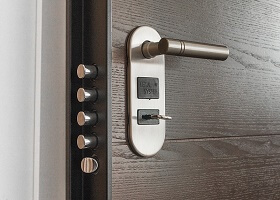 Choosing the best locks for your security needs requires careful consideration of factors such as the level of security required, the type of property, and personal preferences. A locksmith can provide valuable advice on the different types of locks available in the market, as well as the pros and cons of each type. With the right locks installed by a qualified locksmith, you can have peace of mind knowing that your property is well-protected against unauthorized access. Contact your local locksmith today to discuss your security needs and get expert advice on the best locks for your property.
830 reviews on
Great service fast and easy to find will go again whenever I need keys
Great service and super quick! Maria was super nice 😊
Aleczander Añez
2023-11-06
Extremely respectful! Came in and came out no problem. Excellent customer service
Thanks David for coming in 10 min my lockout!
David Came very fast and this was the second time If you want a dependable person David is the one
Susan Swheeler
2023-10-24
Shlom did an excellent job. He's an asset to yr company. I was very impressed how fast he opened the door
Filippo Morais
2023-10-23
It's was amazing, the employees are really helpful and friendly!
On time, prompt and professional. Thank you David O.
Charles Gregory
2023-10-20
My old car key finally left me stranded in a parking lot. Diego was to me within half an hour, up front about very inexpensive price, and made a new key in 20 minutes. The dealership would have been 100 dollars more, a 2 hour appointment, and I'm not sure if I'd have to tow my car there! So easy, 6 stars!
David Ostro is excellent , prompt and very skilled . He showed up on time with the right tools and opened our door and also changed the lock !